Come along with us, as we reveal to you the sights and sounds of the beautiful island of Grenada. King Elvis Taxi and Tours is committed to making your experience here on the Isle of Spice something to share with your family and friends for years to come. We provide individual and group rates, as well as day or night services.
HIKING TOURS
SEVEN SISTERS WATERFALLS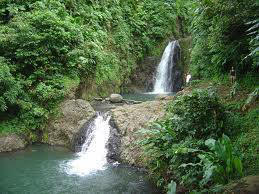 One of (well technically seven of) Grenada's most beautiful and adventurous locations. The Seven Falls also referred to as the Seven Sisters Waterfalls. This series of waterfalls in located at the edge of the Grand Etang Forest Reserve. It encompasses a walk through rural Grenada replete with banana trees, cocoa trees laden with fruit and numerous spices.
This hike is not for the faint of heart as it takes approximately 45 minutes to maneuver your way through the old plantation and rain forest that surround the falls. Of course it may take a little more as you gaze at the beauty of lush green rainforest and the Grenadian Flora and Fauna.
There are various stages to this waterfall hence the name Seven Sisters. Of course there are pools for bathing and nearby can be found another rarely visited waterfall known as Honeymoon Falls. This hike is a nature lovers dream. Adventure, beauty and if you know how to…given the ambience … romance.
CONCORD WATERFALLS
Located on the islands West Coast a 15 minutes drive from the fishing capital of Gouyave. And roughly 30 minutes drive from the Capital City of St Georges. This is one of the more popular waterfalls on the island and with good reason.
The waterfall is easily accessible by a well paved path which takes you to the first fall of the falls. The remaining two falls that make up the three are more difficult to access heading upward through nutmeg and other trees across an old plantation. This is indeed one of the best locations for your: "I've been to Grenada" photos.
Its adventurous and its scenic not to mention easily accessible. Make the Concord waterfalls part of you holiday plans when in Grenada.